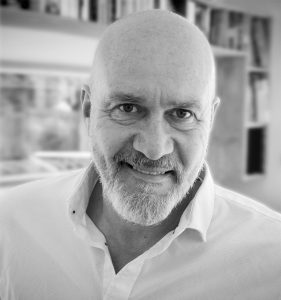 By Eystein Hanssen, Vice President of the European Writers' Council, Chair of the Norwegian Society of Authors.
Amazon experiences a flood of pseudonym authors generated by Artificial Intelligence, fake book titles with hijacked author names as well as false clicks from click farms. Author organisations need to act now.
False books also surface in well-established writers' Goodreads profiles. In a blog post the American writer Jane Friedman explains that she discovered books written by writoids (AIs) in her own name. Books she indeed had not written. In the same blog post she reveals how Amazon responded to her demand of removal of these books.
Amazon's reply: "Please provide us with any trademark registration numbers that relate to your claim."
AuthorTM
Jane Friedman had not trademarked her own name. Whom among us writers have that, really? But we can do that. It is possible to trademark your own name in connection with a product. Our product is books. This may differ from area to area, but at least in the Nordics the product 'book' encompasses a number of formats such as E-book, audiobook, novels in two classes – fiction and non-fiction. I have done it myself now. Not that I am a big name in this industry, but it can't hurt.
This situation raises a new question: Should publishers and distributors have a duty to check the identity of a writer before publishing?
One would think that the author has the right to demand that these titles are removed from his or her Goodreads profile. This is, after all, an identity theft. Not so. Friedman instead describes a process where Goodreads requires the author to reach out to 'volunteer librarians' on Goodreads and ask for help in editing away a faux title.
A Sea of Non-Existing Authors
In a recent New York Times article one could read about how travel literature is being flooded with AI-generated handbooks, packed with tips from automated internet searches or other travel books fed into the relevant writoid that has 'written' it, or AI-generated illustrations from image banks.
Here, too, the authors are fictional people, with AI-generated portraits of their fictional personae. To be fair, pseudonyms are nothing new in the world of literature. Franklin W. Dixon, the author of the Hardy Boys series, never existed. Many authors wrote under this pseudonym. Also, travel books have a long tradition of being written by a group of writers and editors.
However, there is a significant difference between F.W. Dixon or a publication by Lonely Planet, and the AI-generated handbooks: In the case of the AI-generated books there is no transparency about what is written by a human and what is not.
An article in Vice describes how bad the situation has become: A couple of weeks ago, only 19 – nineteen – out of 100 books in the 'Best Sellers in Teen & Young Adult Contemporary Romance' category were written by real authors. The rest were generated by AI. These titles have since disappeared from the lists, but were still when this article was published, available for download from Amazon.
Digital Fraud
How is all this even possible? Well, anyone who produces an AI-generated book can pay for a click farm, a commercial troll factory that unitise automation and cheap labour to produce enormous amounts of link clicks. Voilà, any title gets a high rating and subsequently stand the chance of being downloaded by gullible readers. It may well be that whoever has used AI to generate the text and the click farm is the same entity, and subsequently also receives royalties for downloads.
It doesn't stop there either. American Author Elizabeth Holland experienced being dragged along as a fake author. A fake fake that is, because Holland is bona fide. But her work ended up on a list of books accused of being AI-generated. What do you do then? Perhaps authors find themselves in a stronger after all with a trademarked name.
Obviously, this poses a huge commercial problem for the giant's book service. Many will probably think that it is just as well if Amazon has some problems. But if large revenues can be tricked out of Amazon and other similar players with AI, the serious authors also lose.
More Vigilance Needed
The problems described here currently seem mainly to affect English-language authors, but it is just a matter of time before authors who write in other languages also are affected. In that context, it is interesting to recall the theft of audiobooks from Norwegian streaming services a couple of years ago.
With such sound databases roaming freely in the cloud, AI companies will obtain access to this (for them) very useful data. AI crawlers are vacuuming the web for all available data. Data from for example audiobooks can and will be used to train writoids to generate new audio books in which the voice is an imitation of a known voice, written by a cloned author. A true literary disaster.
AI represents a huge challenge for the literary world, a challenge that requires a boost in vigilance both from authors and those who manage authors' rights. We, the authors, trust our publishers with our work. With this comes a great responsibility for the publisher to safeguard our work from being misused by the AI industry.
We, the authors, must also realise we do not escape the responsibility of informing about how a manuscript was created. Obligations to provide information is already included in many standard publishing contracts, but we are now in a completely new situation, which may require new concessions also on the author's hand.
The problem of AI is so big, so extensive, that the writers' organisations have no other choice but to cooperate across borders. And we need political support from politicians who recognise and understand this enormous challenge.
Eystein Hanssen (58) is a Norwegian novelist, published in his native Norway as well as Germany and Sweden, with ten novels to his conscience. He is one of the co- founders of the Norwegian Society of Authors, where he also holds the chair position. Hanssen has a particular interest in author's rights management and the digitalization of literature, including the use of artificial intelligence. He is Vice President of the European Writers' Council.